Practitioners Bodyworkers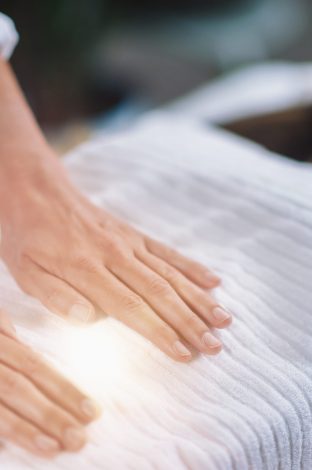 Start TRANSFORMING not just treating!
It can be enormously frustrating, and a bit scary, to "see," "sense" and "know" things that conventional teachings, and perhaps even your professional mentors say cannot be possible. I understand! I've been there, and the good news is that you are not alone. With the right training, you can heighten your awareness and understanding of the energetic aspect of the human experience, and then use this profound knowledge to achieve consistently better outcomes. I can confidently say that my ability to track energy in my clients combined with my integrative approach to working with trauma in the body are the two most important skills I bring into my sessions.
This work provided me advanced tools for aiding my clients in deep, profound healing. I haven't found one client who didn't find this transformative and meaningful. The skills and tools you learn, help to transform and release deep emotional pain and trauma through the mind, the body, and the spiritual field. This certification program has been absolutely profound. Personally, it has helped me to reconnect with myself, find my inner strength, and feel empowered. It has also been life changing and healing for my clients in ways I could never imagine. I am forever grateful for the experiences I have had this past year and have a new perspective on life!
Carolyn's integrative modality combines emerging and evidenced-based interventions from:
Attachment Theory
Neuroscience, including Polyvagal Theory
Somatic (Body) Psychotherapy
Trauma-informed practices
Mindfulness-based practices
Quantum Physics
Reiki/Brennan Energy Healing
Using Carolyn's integrative approach, your clients will experience:
Deep safety; and will feel seen, heard, and valued in the therapeutic relationship
Positive resourcing through connection to higher self, and internal agency
Flexibility regarding the use of programmed protective/defensive strategies
Competence to self-regulate and fully explore emotional wisdom without re-wounding
Increased capacity to compassionately challenge their own shadow
Accelerated healing of psychological, energetic, and physical dis-ease or trauma
Greater stability in identity, purpose, relationships, and finances
What supports your clients also supports your personal life!
Improve your own physical, emotional, mental, relational & spiritual health
Strengthen the important relationships in your life
Refine your personal and professional goals
Address subconscious issues that lead to financial insecurity
Fill your work day with committed, enjoyable clients
Heighten your clinical intuition
Regulate your nervous system during difficult interactions with clients
End your work day feeling energized, not depleted or burnt out
QUOTE
"Before seeing Carolyn, when I worked on clients, I intuitively sensed their trauma, and it triggered me into deep sadness and overwhelm. Carolyn taught me why this was happening and how to keep myself safe during clients sessions. She also taught me to transform any triggers in a manner where I awaken to the bliss of my true essence and gifts."